SUSTAINABLE BASS LABEL SCHEME - IT'S A FIRST!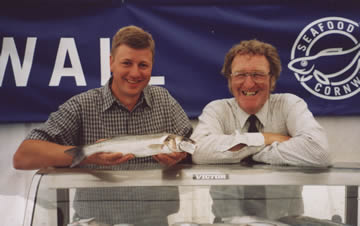 Line fishermen in Cornwall can now promote their sustainable fishery using tags specifically designed for Bass. Andrew Pascoe (left), from Newlyn landed the first tagged Bass when the scheme was recently launched at the Royal Cornwall Show. A number of schemes will be brought together under a 'Seafood Cornwall' project, part funded by the PESCA programme and the SFIA.
Dave Muirhead (right) highlighted the sustainability of line fishing as compared to the indiscriminate nature of trawling - especially where high value by-catches are targeted. The Pascoe family fleet includes the 'Huers' skippered by father Dennis and, Andrew's 'Lamorna' and brother David's 'Little Pearl'; all members of the family take time out using a number of punts to handline for bass and mackerel when conditions are favourable. During July and August, Newlyn punt fishermen often move 'round the corner' to St Ives.

There are a host of fishing industry and maritime related sites, here are only a few. If you would like us to include your site or wish to suggest a link, please contact us...mail us here