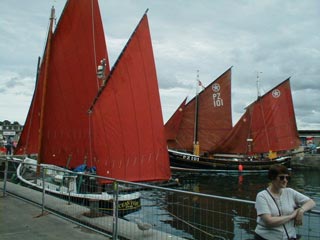 Explore the events surrounding these local vessels:
Voyage of the Mystery
Rosebud PZ 87
Happy Return
Ripple SS19
Pioneer
Ocean Pride
Keriolet SS114
Mounts Bay Lugger Association's "Happy Return"
Happy Return sets sail for Douarnenez 2004 - historic first voyage for the restored lugger. Some of the founder members of the MBLA fulfill their dream!
Dedicated members of the MBLA have brought home the "Happy Return", and are now restoring her to her former glory in Penzance wet dock. Here are a few images to wet your appetite for the chance to sail aboard - or to help support the restoration work! Check out the MBLA website for all you need to know about the project.
There are a host of fishing industry and maritime related sites, here are only a few. If you would like us to include your site or wish to suggest a link, please contact us..email us here